W.I.S.D.O.M
For leaders looking to develop their mind, body and spirit.
Do you ever feel that there must be more to life?
Have you ever felt alone as a leader?
Has your personal life suffered as a result?
Dealing with the pressure of a successful career while juggling a busy personal life, can sometimes feel like an uphill struggle. If you're a high performing leader who wants to learn the secret of maintaining a fulfilling personal life, while at the same time exceling in your professional life, Leaders' Life Mastery Coaching is for you.
Leaders' Life Mastery Coaching is centred around the W.I.S.D.O.M model. A powerful coaching model developed by Suhail Mirza, following his own personal journey to find a deeper meaning to life and a permanent path to transformation. Based on Suhail's acclaimed book and Amazon top seller, Many Mansions, through the power of WISDOM you will discover your own path to deeper fulfilment and success in all areas of your life.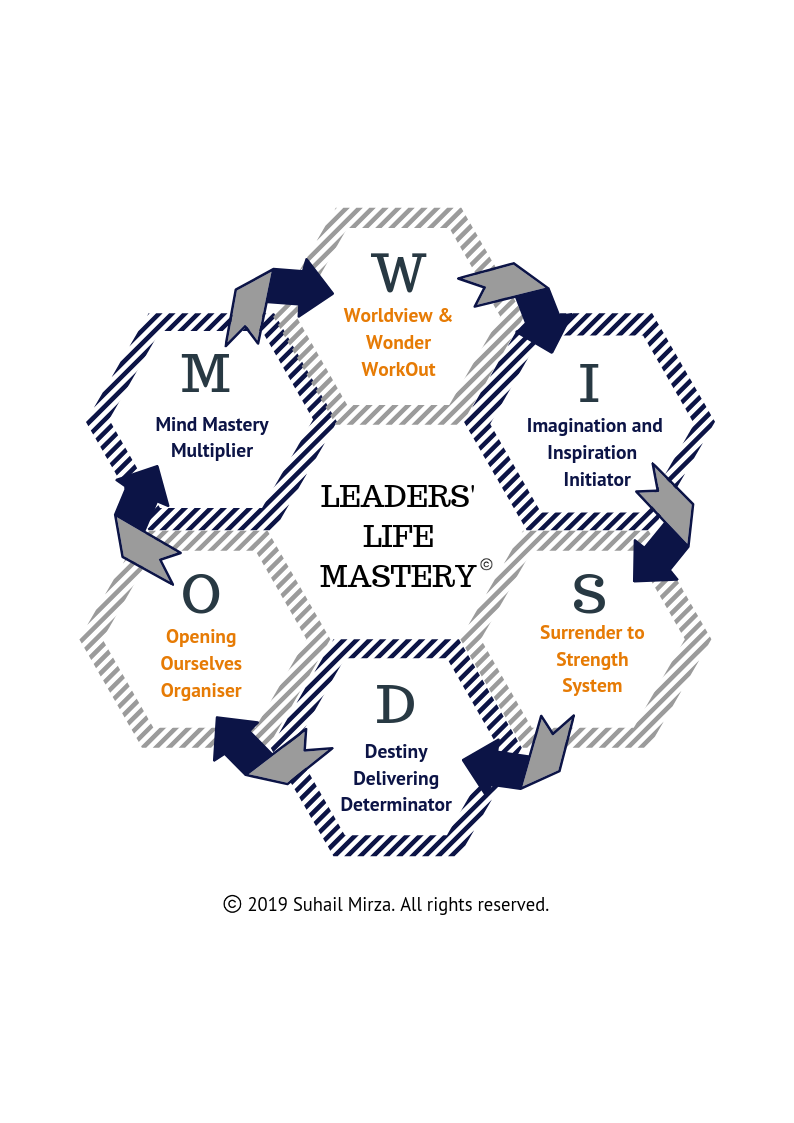 Why is it successful?
Leaders' Life Mastery Coaching is a whole person transformational coaching experience. Acting as a catalyst for change, the WISDOM model will enrich your life personally and professionally. You will discover true meaning to life, while organisations benefit from having truly self-authentic leaders, improved engagement and performance of management teams.
By examining at all aspects of your life, you'll learn techniques that will help you:
• Overcome feeling isolated or alone as a leader.
• Extinguish the often self-critical inner voice and noise.
• Turn away from illusory and often destructive habits.
• Gain better self-awareness and self-care.
• Develop deeper connections with colleagues, the world and yourself.
• Undo the damage of life's excess.
• Improve personal wellbeing.
• Boost your productivity and business performance.
• Overcome limiting beliefs, giving you more confidence in decision making.
How does it work?
Leaders' Life Mastery coaching delves deeper into your life than traditional executive coaching. Through one to one coaching, Suhail will work with you to explore the 6 stages of the W.I.S.D.O.M model in turn. You will be taken on a journey of self-reflection, realisation, and revelation that encompasses your whole life, ultimately resulting in your personal solution to a life of fulfilment, meaning and balance.
Who is it for?
Leader's Life Mastery Coaching is for all entrepreneurs, CEO's and senior management teams looking to excel personally and professionally. Whether you're a CEO looking to achieve greater success in your own life and career, or you want to improve your organisation's success by building a stronger and more effective management team, Leaders' Life Mastery Coaching offers you a solution.
FREE CONSULTATION
Book your free, confidential, half-hour telephone coaching consulation with Suhail now.